The Union Park Neighborhood Association of Des Moines, Iowa (UPNA) contains great natural beauty and cultural destinations, plus convenient medical facilities and neighborhood shopping services. All are within walking distance or accessible via mass transit, bike trails, and city streets.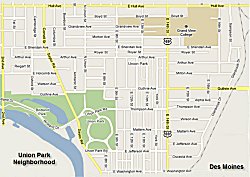 The official Union Park Neighborhood boundaries are Hull Avenue on the North, the railroad tracks on the East, Washington Avenue on the South and the Des Moines River and 2nd Street on the West. The area covers 96 blocks of land containing approximately 2,200 single-family dwellings.
Visit our Neighborhood Map page.
The Union Park Neighborhood Association (UPNA) is a grass roots volunteer organization and is not a part of City Government.
Learn more about the UPNA and join today.
Our Mission
The Union Park Neighborhood Association (UPNA) works to:
Preserve and strengthen the quality of the Union Park neighborhood

Promote the area as desirable for both individual and family living
Foster neighborhood fellowship, and
Serve as a vehicle by which neighborhood problems are resolved and neighborhood goals are achieved.